We're created and now presenting innovative technologies, products, raw materials and materials, that based on wood and green biomass of the fast-growing Paulownia tree.
Our business has a really strong foundation. It is based on a rapidly renewable resource that connects carbon dioxide from the atmosphere throughout its life cycle.
The cultivation of Paulownia trees on a plantations, in the shortest possible time  provides the receiption of wood materials, as well as the solution of urgent issues of preserving the planet's natural resources and positive impact on the overall environment.
KEY PRODUCTION PROCESSES ON PLANTATION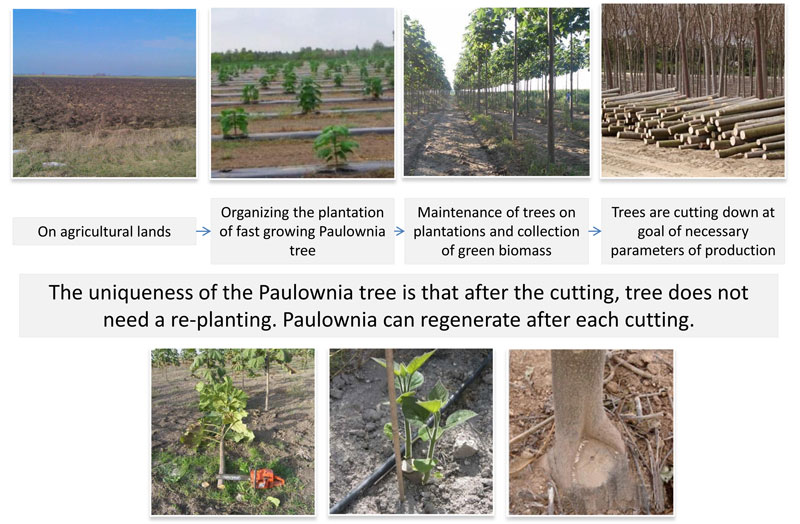 PLANTATIONS OF FAST-GROWING PAULOWNIA TREE (1 year)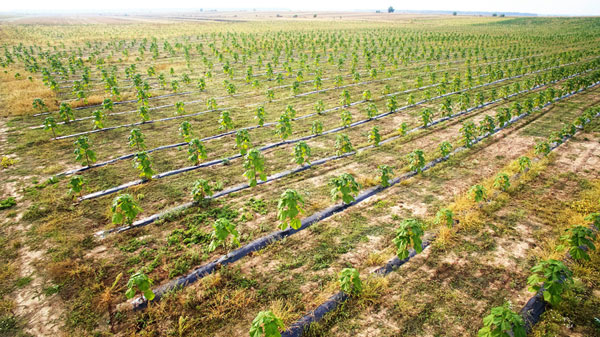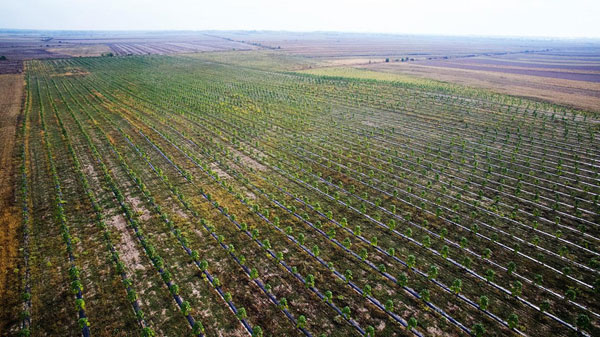 PLANTATIONS OF FAST-GROWING PAULOWNIA TREE (3−4 year)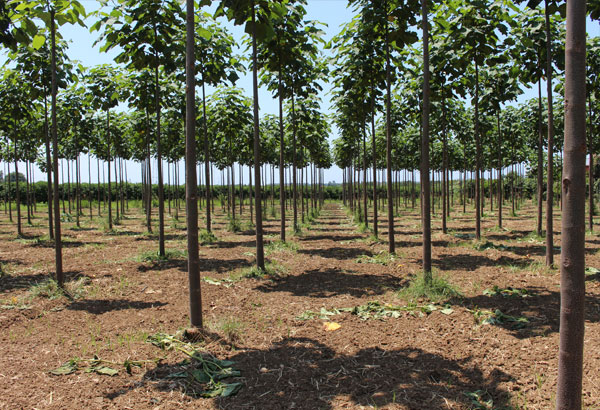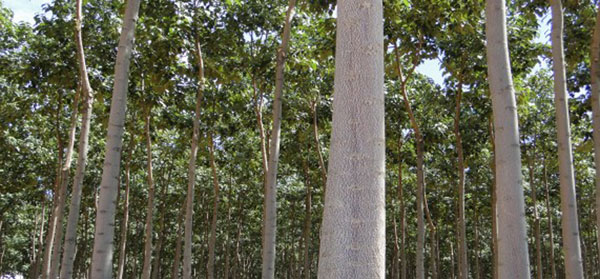 ORGANIZATIONAL STRUCTURE OF PLANTATION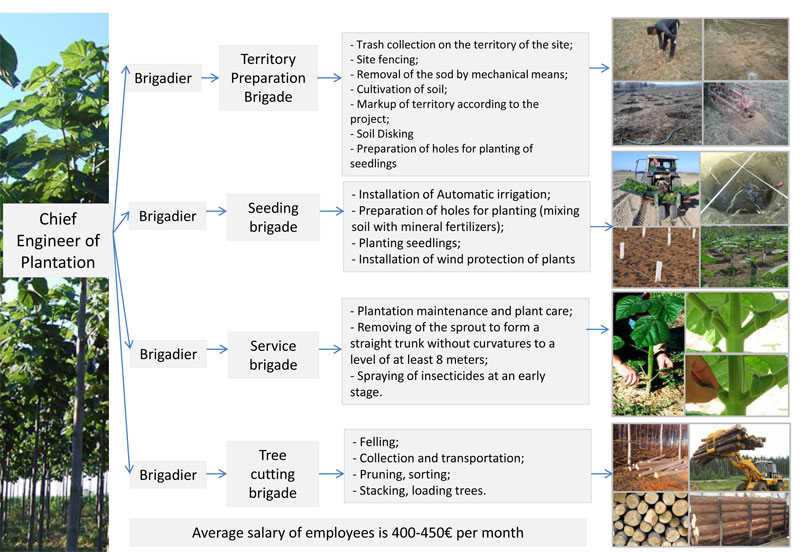 GENERAL SCHEME OF PLANTATION ORGANIZATION
KEY PRODUCTS: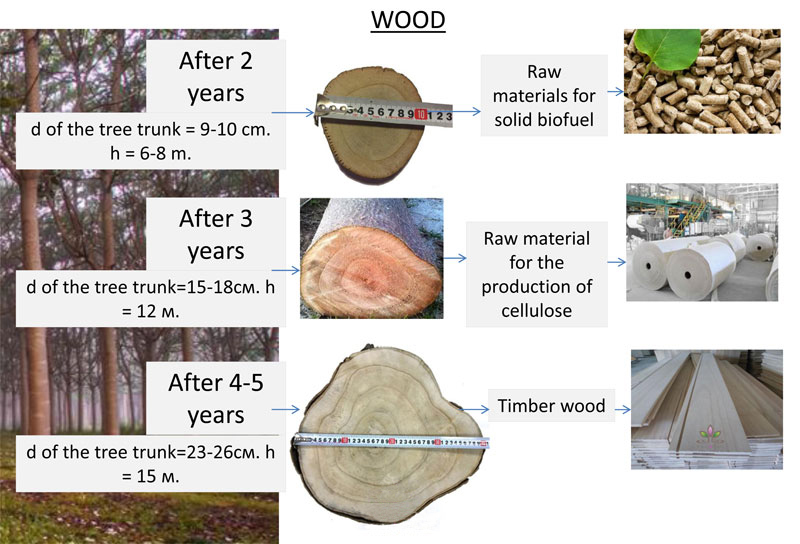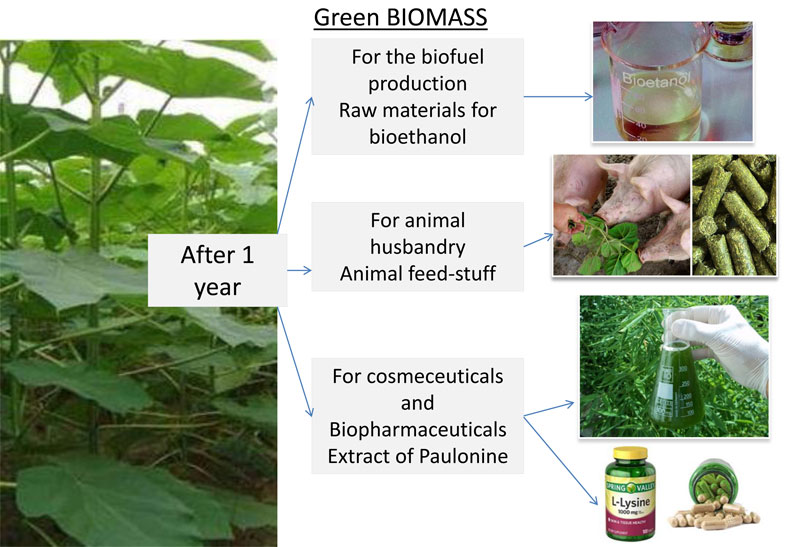 GENERAL SCHEME OF PLANTATION ORGANIZATION Per 100 hectares: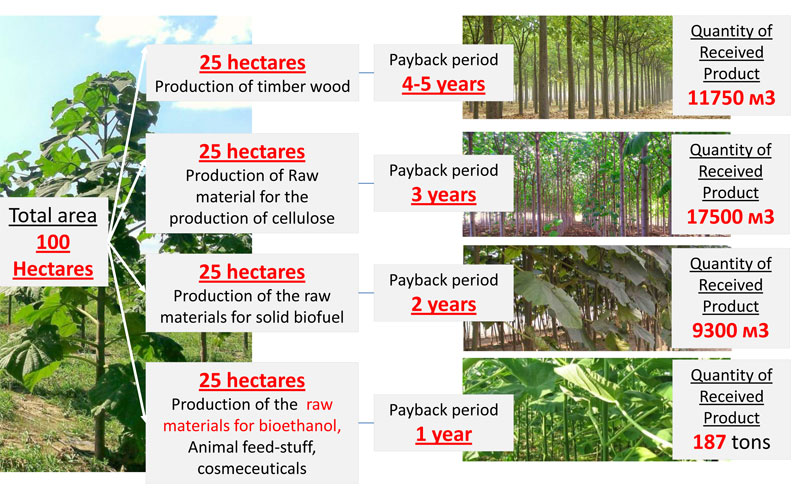 COMMERCIAL TIMBER
Our technologies of cultivating a Paulownia on plantations are provides an opportunity for receive over 470 cubic meters of commercial timber from 1 Hectare in a 4−5 years period.
Qualitative characteristics of Paulownia wood are compared with Larch wood and allow it to be used in the woodworking industry, construction, furniture and other wood products. Also this factor giving an opportunity to replace a traditional types of wood and saving a natural forests, which recovering time takes a tens of years.


RAW MATERIALS FOR BIOFUELS
In addition to commercial wood, the fast-growing PAULOWNIA trees can be used as an biomass in the production of raw-materials for solid and liquid biofuels.
Resource saving and searching for alternative renewable energy sources, determination of environmental problems and developing energy-saving technologies are the most urgent tasks today.
Today technological progress is measured by the degree of protection of ecology. It means that biofuels from renewable raw-materials has become increasingly important.


RAW-MATERIALS FOR CELLULOSE MANUFACTURING
Cellulose is one of the most important semi-finished products that used in the paper, textile and chemical industries.
The main raw-material for the production of cellulose is a leafy and coniferous types of wood. Over the past 20−30 years in the world practice a fast-growing trees are really widespreading.


ANIMAL HUSBANDRY
The leaf mass of paulownia tree contains a huge amount of proteins and in European countries is compared with legumes and lucerne.
Studies of protein, carbohydrate and lipid nutritional values, made it possible to derive a new methods for obtaining feed additives from herbal raw-materials and methods for obtaining a granulated fodder additives — lysine. This is a promising product in the production of animal feed, and its allow us to solve the issue of import substitution in animal husbandry.


PHARMACEUTICAL AND COSMETICS INDUSTRY
The using of extracts from the Paulownia biomass is widely known in the Asian countries and is practiced in pharmaceutics and cosmetology. Flowers, leaves, peel, roots and fruits of trees are used in medicine for the treatment of infections, inflammation and wounds, in antitumor creams.
The bark is used to treat orthopedic diseases, hemorrhoids, as well as to remove unpleasant odor of the legs, and epicarp of the fetus — for bactericidal action. Leaves are used to treat a purulent infection, as well as enhancer of a hair growth.
Cosmeceutical is a totaly new direction, that formed at the junction of cosmetology and pharmacology (as well as folk and traditional medicine).


GENERAL INFORMATION ABOUT PAULOWNIA TREE
Paulownia (Paulownia) is the only type of fast-growing trees from seeds in the world.

The main advantage of Paulownia over the oter types of wood is a growth rate and a possibility to obtain of the high-quality wooden raw-materials in shorter period, and for a lower self-cost. The most intensive growth of Paulownia tree is observed in the first years of life. After 5 years, the growth is usually slows down and it can be only 20−30 cm per year in height, and the trunk diameter increases by 0.5−1 cm per year.
We don't need a qualitative agricultural lands for the production of ecological products, materials and raw-materials from fast-growing wood. Natural unpretentiousness and technologies of planting seedlings of fast-growing Paulownia trees in the open ground makes it possible to use infertile lands. So, Paulownia will not compete with other agricultural crops for the lands and won't be a factor that can increase the self-cost of agricultural crops.
The uniqueness of Paulownia tree is that the tree doesnt need to be re-planting. After each cutting, Paulownia tree can regenerate.
Circumference of the trunk of a 1−2-year-old Paulownia tree is 12−24 cm, 3 −4-year-old is 55−75 cm.
The peculiarity of Paulownia tree is a large fibrous leaves.
The root of Paulownia tree reaches a depth of 4.5 to 6 m. Paulownia tree needs an regular watering only for the first two years. At the third year, there's no special watering is needed.
Paulownia wood contains а tannin (highly anti-corrosive substance) and other ingredients (paulownin, sesamin, etc.) that repel insects, and making a tree resistancy to a bug-grinders and termites.
Paulownia tomentosa have a good frost-resistance characteristic (to −30 ° C)
The life span of the Paulownia tree is 70 to 100 years, which is also a unique quality among other fast-growing breeds.